There's a lot of excitement that comes with the thought of moving to a new house. The smell of fresh paint, brand new switch plates and deeply cleaned spaces are some of the causes of this excitement. After a house is vacated, all necessary repairs and renovations are done to give the house a new look. Though not all homeowners prioritize installing new locks, locks are some of the most vital aspects of consideration when moving to a new house. Locks are crucial components in the structure of the house. If you've once encountered a lock problem, then you understand how disturbing the problem is. Below are various reasons as to why you should consider getting new locks installed when moving to a new home thanks to the fellas at FindGoodLocksmiths Visit Website:
Security
When it comes to moving to a new house and/or neighborhood, every effort of enhancing the well-being of your family and property cannot be underestimated. When you buy or rent a new house, you are given a set of keys that were used by the previous occupant. It is likely that the occupant has duplicate keys as well. You should rekey your locks or install new locks before the move-in date and before putting any valuable items inside the house. Scheduling a new lock installation immediately you are sure that you are moving to your new house is the only way to make your moving experience free of worries about someone else having keys to your home.
Replace old and damaged locks
There are two reasons for replacing old locks. One is to avoid the risk of unknown people having duplicate keys. The previous homeowners might have occupied the house and used the same locks for a long time. During this time, the keys were obviously exchanging hands. Maintenance guys, realtors, relatives to the previous owner and a whole lot of other people might have used the keys to gain entry into the home. The other reason is that aging locks are prone to malfunctioning. When an old lock fails to function or gets terminally damaged, the home is at risk of theft since it's easy to break into the malfunctioning doors. Replacing old locks reduces the mentioned risks significantly.
Change locks to fit your style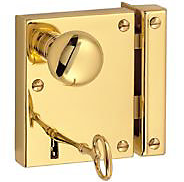 Different people have varying opinions about their desired hardware in their homes. Changing door locks to match a specific desired style is more common with new homeowners than it is with renters. When you buy a house and have a specific style of locks that you really like, you could take the chance of changing the existing locks before moving to your new house. After all, it is your property and changing the locks could increase its value.
Remove locks with self-locking door knobs
Self-locking door knobs or latches are meant to save time. They help you to close the door behind you without using a key. However, the frustration they can cause in the occurrence of a lockout outweighs the benefit by far. Most people, even you, might have locked themselves out some time and understand that it is an unpleasant experience. If you find out that your new house has been fitted with self-lock knobs, it is time to replace them with "lock-proof" options before the frustrations of a lockout rip through your precious time.
Go keyless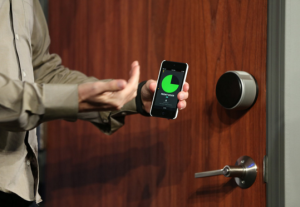 Technology is changing life in all dimensions. Keyless door locks are becoming more and more popular as time goes. There are many advantages and reasons that attract homeowners to this "smart" choice. The obvious reason for installing this type of locks on your doors is avoiding the risk of losing your key. It means that you don't have to carry keys around or hide a spare key somewhere in your property like many homeowners currently do.
This technology also allows you to provide entry to your home only at your discretion. Housekeepers, dog-walkers, guests, and maintenance professionals can enter into your home even when you're very far away. You only need to provide them with the code. Automated door locks also enable you to know of any attempts to open your doors thus giving you an idea of how secure your home is.
With these reasons in mind, it is certainly important to consider getting new locks installed when moving to a new home. Hiring a locksmith to install the new locks should be the next integral decision. The locksmith will ensure that the right locks are installed properly and that the security of your home is enhanced before you settle in.