A new era of home security is upon us as Genie Smart Lock completely has revolutionized how to locks work by infusing all the abilities of a Smart lock into a door handle. This lock is different from others in the market because most manufacturers put their technology into the deadbolt of a door, which brings a diverse array of complications.
Genie Smart Lock, on the other hand, makes things simpler by giving you Wi-Fi and Bluetooth access to the door handle along with long-lasting battery life that would barely need any recharging.
Resources:
fountainhillslocksmithpros.net
facebook.com
bluetooth.com
What Makes Genie Smart Lock Great?
This is a one in a million product because there is no other similar device exists in the market at the moment. The best feature of this lock is undoubtedly the ability to lock remotely or unlock, even when you are miles away from the door. Can you imagine all the benefits that this feature can give you? From letting your child in school to allowing a technician to do some repairs, you don't have to be physically present at home to get work done.
The last thing you need is to entrust the security and safety of your home to a neighbor who just may be unreliable in all sorts of ways. Your family no longer needs to wait outside while you are attending office because you can unlock the door remotely at your convenience.
Features of Genie Smart Lock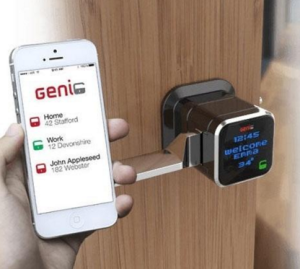 According to the company, one of the biggest challenges that smart lock's face is running out of battery while constantly trying to a Bluetooth or Wi-Fi network. Genie, however, doesn't try to connect directly to your Wi-Fi and relies on a mechanism known as Genie Hub to get the work done. Think of it as a data center that relays every possible information to the door lock via Wi-Fi or Bluetooth. This indirect connection allows this brand of Smart lock to remain charged quite longer than many of its competitors.
The sole reason the parent company of Genie spent so much time developing a new mechanism for smart locks is because they understand the hassles involved in dealing with a lock that has no charge. In case you are locked out and have no way to reach the charger, you may have to call a locksmith and break the entire system to get more access. But all these worries are a thing of the past because Genie Smart Lock has completely changed the home security industry.
How does this lock work?
This lock uses a secondary system for managing power, called Genie Hub, which is a Wi-Fi hub installed inside of your home. The Genie Hub communicates to the mechanism door handle via a technology known as Bluetooth Low Energy (BLE). This prevents excessive battery drain of the Smart Lock by using the batteries inside the door handle only when BLE is active. Wi-Fi signal is also converted to BLE, which in turn is sent to Genie Smart Lock for it to reply back to the user's command to the Genie Hub. This is a revolutionary mechanism saves energy and gives this Smart lock a battery life of 12 months.
How to operate it?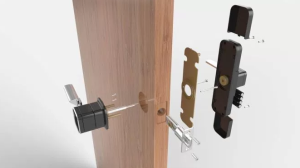 If you know how to open a physical lock, then you'll find this lock, even more, easier to use. All you have to do is download the official mobile app and use it to control your door. You also have an option of purchasing additional access codes that can be given to friends and family so that they can get access to your home without the need of notifying you. There is also a physical key provided, which can be used in case of an emergency where there may be some malfunctioning or error with the electronic components.
Is this product worth it?
This amazing lock fits into traditional 54 mm door holds and leaves no mark when you remove it. Installing it is easy and can be done within just a few minutes. Where else can you get all these amazing features on a budget that would not cause a dent in your savings? If you care about the security of your home and not want to undergo the hassles of installing an overly complicated locking mechanism, then Genie Smart Lock is just right for you.